SAINT ANDREWS by-the-Sea
New Brunswick, Canada
Whatever brings you to St. Andrews, a convention, a course or a concert, you will be struck by the beauty of this old sea port. Our 27 foot tides support a plentiful and diverse marine life that sustained our First Peoples. Fishing and aquaculture industries still thrive in Passamaquoddy Bay. Our intriguing history dates to 1604 when the first attempt was made by the French to settle in North America. Loyalist refugees from the American Revolution laid out the streets in 1783. Handsome houses, built by them and their descendents and by wealthy summer residents starting in the 1880's, grace our Town. One, built by Sir William Van Horne can be reached only at low tide.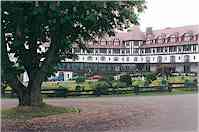 St. Andrews people and businesses want you to enjoy your stay and to return again. Accommodations range from campgrounds to five star inns. Seventeen restaurants cater to all tastes and budgets. When browsing in the galleries, craft stores and boutiques you will discover beautiful objects created by the many artisans and artists attracted to the area. As you wander through the Town you will enjoy many private and public gardens and as well as the spectacular Kingsbrae Horticultural Garden. Six beautiful old churches will fill both your eye and your spiritual needs.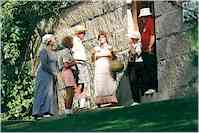 To explore our heritage you can join a historical walking tour, visit the Ross Museum, do genealogical research in the archives and visit two historic buildings. One, administered by Parks Canada, is a Block House built for the war of 1812. In the other, Sheriff Andrews House, the guides wear period costumes. If nature fascinates you, don't miss the interpretive centres of the Hunstman Marine Labs or the Atlantic Salmon Federation.
You have a wide variety of recreational choices. Without much planning, you can go beach combing, enjoy a imaginative playground, rent a bike, swim in a dammed up cove or just watch the harbour traffic from the end of the Market Wharf. Or you can arrange games of golf or tennis or book a Day Adventure tour to look for whales or go kayaking, sailing or fishing. Evening activities include Friday or Saturday movies and frequent artistic performances at the Arena Complex Theatre or in churches, restaurants and bars.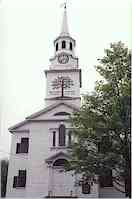 There is something to interest all ages in St. Andrews. You may want to schedule your visit so that the children in the family can attend hockey school at the W.C. O'Neill Arena, take swimming lessons at Katy's Cove, study nature or art at Sunbury Shores Arts and Nature Centre or take music, dance and/or drama courses from the St. Andrews Arts Council. Adult courses are also offered by these final two charitable organizations. Students also come to St. Andrews to take university level courses on marine biology in the summer at the Hunstman Marine Science Centre and on a variety of courses in the winter at the New Brunswick Community College - St. Andrews Campus. Whatever your interests, we are ready to help you have a most enjoyable visit.