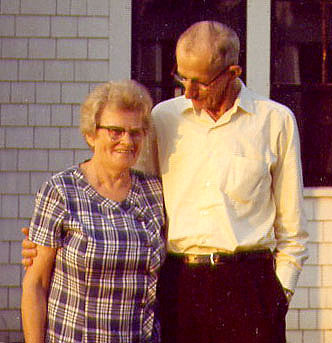 BRAGG, SUSAN ELIZABETH (WASHBURN)
Susan E. Bragg, 108, passed away on April 5, 2007, at the Digby General Hospital.Sue was born in Wirrall, Queens County, NB on July 2, 1898. Her parents were Jennie and Jonathan "Henry" Washburn.
She worked locally around the Saint John area until the age of 23. She then moved to Natick, Mass., where she was employed at a girls' school for a few years. She married Milton Bragg on August 10, 1929, and the next year moved to North Range, Digby Co. Sue and Milton were married for 57 years until his passing in February of 1986.
Sue was an active member of her community and North Rage Baptist Church for many years where she was a Sunday school teacher and superintendent and member of the choir. One of Sue's great passions was writing poetry, which was a wonderful blessing to many of her relatives and friends. She worked in the North Range post office and also was correspondent for the Digby Courier for 32 years.
She and Milton took care of foster children for many years. Very special to her was Ronald Blanchard (recently deceased), and his family, especially Lisa McCullough (Ronal's daughter). Milton Hudson was also a foster child.
Sue has spent the last few years of her life in the Stones' Private Rest Home, Weaver Settlement. Special thanks to Celena and Larry Stone for their tender loving care of Sue.
She is survived by nephews Owen Washburn, Fredericton, NB and David Washburn, Wirral, NB; nieces Diane Sloat, Cornwall, NS and Barbara Dryden, Grand Bay, NB. She was predeceased by a half brother, Hibbert Washburn; a nephew, Larry Washburn; and a niece, Audrey Magee.
The funeral service was held on April 9, 2007, in Jayne's Funeral Chapel, Digby, Pastor Frank Innis and Pastor Ivan Bain officiating followed by internment in the North Range Cemetery. Donations in Sue's memory can be made to a charity of choice.
Return Home Revised on April 24, 2007 © Copyright Sheila Washburn 2007