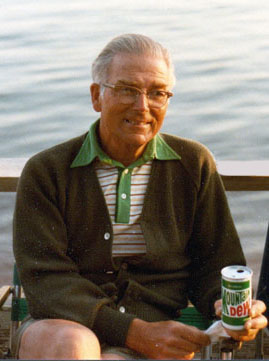 David Coughey at Family Picnic circa 1986
David Judson Coughey passed away, peacefully, at his home in St. Andrews, N.B., Sunday afternoon, Oct. 17, 2010, at the age of 97. David was born in St. Andrews on June 5, 1913 to Thomas J. and Madeline E. (Wood) Coughey.
David graduated from Prince Arthur School in St. Andrews in 1930 and the University of New Brunswick in 1934. He did post graduate work in education at the University of Toronto. After several years teaching in Benton and Milltown, David moved to Fredericton where he taught at Fredericton High for 19 years. During that time he was the recipient of the Lord Beaverbrook Overseas Scholarship for Teachers to study in England. He spent a year there, with his young family, visiting schools and attending classes in London. After returning, David was acting principal at FHS before moving to Oromocto, where the first high school was being built for the model community. During his tenure as principal of Oromocto High School of 20 years, the school grew and moved two more times.
Upon retirement, David took over the position of executive director of the New Brunswick Board of School Trustees for another nine years. With his brother-in-law, Lawrence Hashey, David started the 333 Lord Beaverbrook Air Cadet Squadron in Fredericton. He was also responsible for the beginning of the Boy Scout troop at Brunswick Street United Baptist Church. In St. Andrews, he was a long-time deacon at St. Andrews United Baptist Church. At the request of Lord Beaverbrook, he was a member and then chair of the Lady Beaverbrook Rink management committee for many years.
For all his adult life, David was involved in the local YMCA. He worked with the Capital Y's Men's club from its beginning and was instrumental in the development of the Magaguadavic Camp facility. In 1949 David was elected international president of Y's Men's Clubs. David travelled to Norway, Denmark, Sweden, England and cross country to California during his term.
In 1950 David married Lillian Blocksidge, an English girl, whom he met while she was working as the girls work director at the YM-YWCA. Together they raised four girls, passing along their love of sports by playing golf, tennis, badminton, boating and swimming as a family in St. Andrews.
Golf was one of his passions, especially at the Algonquin Golf Club in St. Andrews. As a young man he participated on the Willingdon Cup team for New Brunswick. An honourary lifetime member of the club, David has been president and club champion. In later years David and Lillian travelled to warmer places to play golf in the winter and spent summers on the golf course in St. Andrews.
David has also had a long involvement with the University of New Brunswick, acting as president of the alumni and sitting on the board of governors.
David loved and was proud of all his family. He cherished their visits to the family cottage in St. Andrews.
David was predeceased by his brothers, Earl and Thomas, and his sisters, Alice and Mary Hashey. He is survived by his wife of 60 years, Lillian (Blocksidge); his brother, Jamie, and four daughters, Sally McAllister, of Fredericton, N.B., Mary Kaye (Brian), of Hanwell, N.B., Wendy White (Scott), of Amherst, N.S., and Vicki Coughey (Brent Daniel), of Kanata, Ont. He was also loved and will be missed by his 12 grandchildren: Mark McAllister (Julie), Kristy McAllister (Aaron Simpson), Paul McAllister, Patrick McAllister, Martin Kaye, Laura Kaye, Alycia Morehouse, Brittany Morehouse, Chris Morehouse, Kate Daniel, Allie Daniel and Ryan Daniel. He enjoyed his time with his two little great-granddaughters, Grace and Jana McAllister. His nieces and nephews were also a very important part of his life. David lived a full life right until his passing and will be sorely missed.
A celebration of his life was held on Thursday, Oct. 21, at 11 a.m., at Brunswick Street Baptist Church, with Rev. Greg Geldart officiating.
For those who wish, a donation to the YMCA Building Fund, the Brunswick Street Baptist Church Building Fund or a charity of their choice would be appreciated by the family.