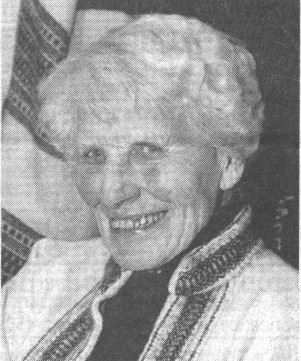 Nel was a regular participant in popular craft shows including Roxys, The Mactaquac Craft Fair and Christmas Choice. Nel contributed greatly to the art of weaving in Atlantic Canada where she was a Fellow and Honorary Member of the New Brunswick Crafts Council. In recognition of her accomplishments, she received both the prestigious Strathbutler Award and the Kjeld and Erica Deichmann Award for Excellence in Craft in 1995. Most recently, the Sheila Hugh Mckay Foundation established a scholarship in her name, to be awarded annually to a graduate of the College of Craft and Design.
Nel is survived by her husband, Wouter (Jack), children, Karin and her husband Frank, Michiel, Peter and his wife Amy, six grandchildren and two great grandchildren.
Nel Blink Oudemans, a nationally recognized weaver, passed away at her home in Fredericton on January 4, 2002 after a battle with cancer. She was 83.
Originally from The Netherlands, Nel was active in the Dutch underground during the Second World War. In 1947 she married Wouter Oudemans and immigrated to New Brunswick.
Nel began her weaving career in Sweden where she attended Saterglantan weaving school. In the late 1940s she taught weaving at the New Brunswick Crafts School. After raising her three children, she then devoted full time to her craft. Her weavings, including jackets, shawls, blankets, tapestries and reproductions of historical pieces have found their way into many homes, museum and permanent collections.
A celebration of Nelís life will be held on February 16, 2002 in the Memorial Hall at the University of New Brunswick in Fredericton at 2:00 p.m. In honour of Nel's dedication to the arts in New Brunswick a fund has been established that will be used to support and promote young artisans in the province.
Contributions to this fund can be sent to: The Nel Oudemans Fund, The New Brunswick Foundation for the Arts, c/o Denise Violette, 634 Queen Street, Suite 300 Fredericton, NB, E3B 1C2, Canada