Greeting from Brno in the Czech Republic.
22/02/01-0800
I have arrived safe and with all my luggage. With your indulgence I would like to add to this e-mail a chronicle of my trip and first day in Brno. This chronicle was written with Donna in mind and I have tried to edit the mushy parts out. I hope that everyone is doing well.
Thom Washburn
Part 1 of the Brno Chronicle
or My Husband went to the Czech Republic and all I got was this lousy Billa shopping bag.
But I am getting ahead of myself.
When Donna left me at the airport I entered the airplane with much trepidation. I was flying coach which can be very uncomfortable. I was pleasantly surprised to find the seating better than average and with the airplane not full I was able to put all my carryons in the overhead bins. This was an Airbus A340 which has a 2-4-2 configuration. I was in the center row isle seat.
In addition to the comfort, each seat has its own 5″x5″ video monitor from which a multitude of options are available. You could play simple games (solitaire, Othello, etc) or watch various TV programs and movies. Each seat also has a controller that is embedded in the armrest and pulls out for use as a game controller or remote control. There was a multitude of films available as soon as the plane took off. I chose "Charlie's Angels" over a series of other unforgettable films.
During the film they served dinner. I ordered the veal in gravy with mixed "things". This turned out to be an unfortunate selection. During a bit of turbulence, well, let's just say that I am still trying to get the gravy stains out.
After the dinner and movie, I looked at my watch and discovered that it was well past my bedtime—in the Czech Republic that is. I decided to try and sleep so as to get on a "European" time. My attempt at falling asleep was aided by a sleeping mask handed out with the earphones at the beginning of the flight. Now back to those "comfortable" seats. When I said earlier that they were comfortable I meant that in the relative sense. As chairs, they made lousy beds. However, with the help of my trusty mask, and the fact that no one was sitting beside me, I dozed off in a fitful four-hour sleep.
I went to sleep when we were over Toronto, and woke up when we were over Ireland. With two hours left, and the sky light outside, I got up and stretched.
Overall, I would have to rate Air France as better than normal. After saying that, the food was too 'fou-fou-ish' for me, but the overall comfort was very good. Of course, this may have had more to do with the type of plane than the airline.
We landed safely in Paris about 20 minutes ahead of schedule. We had to park on the tarmac and be brought to the terminal by these big busses that raised and lowered to match the door height of the airplane. Once inside Charles de Gaulle II Airport, it was fairly easy to change terminals, and find my gate.
After landing in Prague, it was a short walk to the customs gates. Here, confusion reigned. There are multiple gates marked, Visa Only, Non-visa Only, Non-visa European Union Only, and Non-visa Other. Unfortunately there was only one gate open, "Non-visa European Union Only. The passengers from my flight were milling around and I was not sure where the line ended. I was also coming to the conclusion that the signs probably did not mean a lot. I then noticed that there was a Thomas Cook Currency Exchange, so I took the opportunity to change some money to pay for the cab from Prague to Brno. When this was done two more "Non-visa European Union Only" doors had opened and lines had formed, more or less.
When it became my turn with the customs officer, there were no questions asked so no lies given. My passport was quickly stamped and I was in.
On the other side of the customs were the baggage collection carousels. As I emerged, the luggage from my flight was just starting to arrive and very shortly all four off my massive bags were safely in my possession. I strapped everything together, slung as much as I could over my shoulder and dragged all my worldly possessions past the inspectors, who only gave me a curious stare.
As I emerged into the Czech Republic for the first time, it was a cold grey day of late winter, about 4°C (40°F). The taxi driver was there with a sign "ABB Lummus Global—Mr. Washburn". I was supposed to meet the Lummus Brno Piping Supervisor, but he was not around. Through some hand gestures and broken English it was established the he had gone in a previous taxi.
This was probably a good thing since once we had stuffed my bags, the taxi driver, and me into the cab, there was no room left. I got my map of Czech Republic out and followed our journey through Prague and then promptly fell asleep. I woke up on a highway between Prague and Brno in the middle of a snowstorm. The driver was doing 140 to 160 (90-100 mph). I do not know if it was fear or fascination but I was able to stay awake the rest of the way.
The Czech countryside is very hilly, with forest and farms dotting the hillsides. It kind of reminded me of northern New Brunswick. The highway seemed very good, however the traffic ranged from speedy BMWs to very, very, VERY slow trucks and tractors. We finally entered Brno around 3:00 pm.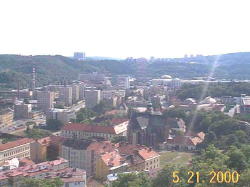 Brno is a real mixture of old buildings; castles and churches, pre-WWII tenement houses and ugly Communist Concrete structures, mostly apartment buildings. In many ways, Brno reminds me of China with many of the buildings being run down. This must be a Communist phenomenon. This is not to say that Brno does not have some beautiful buildings, just that their treatment recently has been harsh.

I arrived at the Hotel International—Best Western and had a porter do the entire bag dragging thing while I checked in. The room was small but clean. The toilet was of a different configuration than what I am used to but functional. It had a shower/bathtub and a TV with Czech, German, French, and two English channels, BBC World News and CNN World. My room faced the hill on which the 13th century castle sits. The castle is not like a Rhine fantasy castle, but more like a walled fortress.

After relaxing for a bit, reading about the hotel, and finding the least wrinkled clothes for the following day, I decided it was time to find the restaurant and have dinner. As it exited the elevator I realized that I was the only person in jeans. All the other people in the bar and front foyer were in business or causal business attire. I also realized that I was still wearing the clothes that had suffered the French gravy incident and that I probably needed a shower. So back up I went to try and get clean. The shower worked fine and with a change of clothes I was off the find the restaurant.

There are actually two restaurants in the hotel, a fancy French restaurant and a more informal Czech restaurant. I was interested in Czech food so that was my choice of where to eat. It took the waitress 2 seconds to realize that I needed the English menu. I think it was when I whipped out my handy Berlitz Czech guide and took 5 minutes to translate "Appetizer". Although the English menu did use English words, it was still hard to know what you might get. I ordered "Fried Pork", "dumplings, and "sweet corn". What I got was a fantastic meal. It turned out that "fried pork" is "pork schnitzel" and dumplings are a dense bready potato product that is very nice. The sweet corn is just like Donna's mother makes with onions and bacon. To top all this off I ordered a Czech beer, which was delicious. The total bill came to 220 crowns or $6. I signed for the bill and went to leave a tip. Now I figured that I need to leave a 10% tip, but instead of leaving a 20-crown coin, I put down a 200-crown note. Somehow between the beer and the jet lag my mind interpreted 10% into 100% and I only figured this out later when I went out to buy water. Oh well, I hope that they enjoyed their windfall.

The purpose for purchasing the water was to avoid drinking the brown water that came out of the hotel taps. There was a corner store about one block away where I was able to purchase a large bottle of water for about 30 cents. On my walk to and from the store I noticed that there were a large number of people walking dogs. The dogs were everywhere and all different kinds, as long as they were small. Dogs and cats seem to be very popular here.

After a good nights sleep I was up at 6:00 am to shower again and go down and have breakfast. I was told at check in that my room included the normal hotel breakfast, and if I wanted, for a few crowns more I could upgrade to the "business man's" breakfast. I chose to stick with the normal breakfast, thinking that all I needed was a hard bun and coffee. So it was a pleasant surprise when I found that the normal breakfast included scrambled eggs, sausage, hot and cold cereal, sweets, etc. I do not know what the "business man's" breakfast includes, maybe a massage and dancing girls?

After breakfast I went back to the room and packed up all my cases and had them ready to go. I went downstairs and met Pavel Novak, the Brno Project Manager. It was decided that I would leave my bags in my room and we would be back before noon to pick them up. The morning agenda included, signing all documents needed to work, giving copies of my passport, getting a car, looking at the apartment. The papers took no time and the car was ready right away. It is a light blue, brand new, Ford Focus. It has manual shift, which is no problem for me. I have to fill out log sheets every week with my mileage and gas stops etc.

We then went to see the apartment. To my great surprise, and some trepidation, I was told that I would be driving there (following another car). This was accomplished without any one being killed. Driving in Brno is a little different. Of course most cars are small. I have seen one Jeep Grand Cherokee, one Suburban and one Toyota mini van. The rest of the personal vehicles are cars. The drivers are not crazy like Italy. Since it is winter there are very few bicycles and no Vespas. You have to be very aware of the road signs for right of way. In the Czech Republic (and probably all over Europe) people on the right have the right of way. So if you are driving straight and someone comes from a side street to your right, then they have the right of way. This is only mitigated if there is a yellow triangle in your direction. The yellow square indicates that you have the right of way. If you have a yellow square, then the person on the side street should have an upside down triangle indicating a yield to oncoming traffic. I am sure that this will catch me at some point. For now I drive more slowly and take a careful watch of everything.

The apartment turned out to be the top floor of an open triplex. ... Each floor has its own kitchen, sitting room, bedroom and bathrooms (one for the toilet and one for the sink/bathtub). Each room enters onto a central foyer and has a frosted glass door. Stairs connect the foyers for each floor. In order for me to get from the ground floor to my floor it is necessary to walk through the foyer for the second floor where the landlord lives. In other words,I am walking through his living quarters. During our review of the apartment the landlord agreed to build a wall with a door at the bottom of the stairs to the third floor to give me some privacy....

The bedroom is very large. There are two single beds put together and a sitting area with two chairs and a low table. There is no closet in this room. The bedding is interesting and since it is the same as the hotel, it must be standard in the Czech Republic. A sheet covers each bed, and there are two pillows; one is always very large and flat while the other is small and fuller. To cover you there is a duvet of sorts, no top sheet, and the duvet does not tuck in....

After apartment hunting we went back to the hotel and collected my bags and checked out. We went back to the apartment and took all my stuff inside. This was not easy task, as each bag weighed 50 lbs and had to be lugged up three flights of narrow stairs.

Once my stuff was safely in the apartment we went to the office where the project will be done. It is a tall non-descript building with 16 floors (including a zero floor—the ground floor). The project is currently located on the 8th floor and will have more offices on the 9th floor in a couple of weeks. This building is actually located several kilometers from the main office downtown. I have a space with a computer. Most of the offices are modular desks with no dividers.

Once I was settled in, it was time for lunch. There is a cafeteria for the office buildings in the area. It serves one of four dishes everyday, which you have to choose the day before. Fortunately Pavel had selected a lunch for me, Pork with dumplings and sauerkraut. It was delicious. After eating we chose the next day's meal, which I have no idea what it is since it is all in Czech. I just went with what Pavel selected.

Finally, back to work where I made some phone calls and tried to get my computer to function. At the time of writing this I am still without e-mail. I am doing this in Word and will either attach it or copy and paste it into an e-mail.

At the end of a long day I was ready to go home and have dinner. Unfortunately, I had no groceries and no idea where a restaurant could be located. Pavel is from the south side of Brno and the apartment is on the north side, so he could give me no assistance. I drove back to the apartment in the waning light of day and by the time I was "home" the sky was dark. I was supposed to meet the landlord between 5 and 6 pm to have him show me how to work the Satellite and stereo.

I was home just before 6 but he was not there. I went to my floor and sat down and figured out how to operate the equipment by myself. It was a great disappointment to discover that besides, CNN, BBC World news, and CNBC, the only other English channels he receives are Discovery and Animal Planet. This is not good. In fact, after 30 minutes I turned off the TV and started a book.

At about 7 pm, hunger pains hit and I decided to find a restaurant. I figured that the best way was on foot. So off I set. I was cold and windy, but I was wearing a sweater and jacket, so I was not cold. I wandered towards the main road that I used to get to and from work, hoping to stumble across something on the way. I found one small bar the size of bus shelter, but it was obvious that they did not serve food. I got to the main road without luck. I decided to walk down the main road towards where I knew where there was a grocery store. The only things that were open were hairdressers. All other stores were closed and the streets were empty, except for people walking their dogs.

I finally arrived at the grocery store, called "Billa". I went inside and found a small but full selection of groceries. I decided that I needed to go back and get the car so I went outside. On the way out I noticed that they closed at 8 pm and it was now 7:35. It was doubtful that I could get back in time. So I returned to the store. I purchased some bread, salami and cheese to make a sandwich for dinner, some margarine, jam and yogurt for breakfast, and beer to wash down the salami. I also purchased more water and some instant coffee and a mug for the office. There is only boiled water available at the office and no free coffee. I also had to buy a "Billa" bag to carry all my purchases with (thus the opening line). Unfortunately, as Mark Bazely would say, I tried to fit "2 lbs of shit in a 1 lb bag". I ended up stuffing my pockets and carrying the water. This will be important in a minute.

Upon leaving the Billa, I noticed that the wind had picked up and it was raining. Actually, the wind had not really pickup up it just felt that way. My entire stroll had been down hill with the wind behind me. Now I was walking, up hill, wind in my face and could not put my hands in my pockets because they were full (and I was carrying a bag and water). I estimate that my walk back was a mile, but it felt like 10. I got home cold and wet. The rain was just changing to freezing when I got to the apartment. I guess we have to count our blessings.

I made my sandwiches, ate while watching the Discovery Channel.... Finally, at 10 pm I called it a night and went to bed.

I have been told not to unpack my bags since there is another apartment available next week that might suit my needs better. Although I was told that the apartment I am in now is good for Brno standards, I believe that this may not be true, since one of the Brno employees came around this morning to extend his sympathies for the apartment I got. He had heard that it was not too good, but that there was a shortage of good apartments because there were a lot of foreigners in Brno working on their various projects. So maybe the apartment was good because I would take it. We shall see. I am going to see the other apartment tomorrow.

Thom 2/23/01