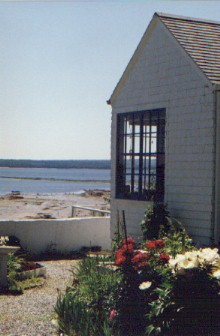 Use of the charming cottage of the late Judge Earl T. Caughey is now being limited to family and friends. The death of Earl's grandson Thomas Washburn has rearranged our priorities. For more information on the scholarship established in Thom's memory go to Scholarship.
If you were customers previously, we thank you for past patronage. If you have just discovered this site, three links to the left still provide data on the Town. Please do come to St. Andrews. There are lots of lovely places to stay. We know you will enjoy your visit.
We also own a two bedroom unit called "The Lookout" which is across the street. Starting in 2004 it was reserved for overflow family and friends in the summer and rented in the winters, however starting in 2009 it may be rented year 'round.