MEMORIALS
Thom Washburn 1963-2004

The beautiful mosaic to the left
was created by Chris Silkwood.
To see more of her work go to:

When Thom went to Saudi Arabia at the end of April 2004 he expected to be home before the end of August. We all suffered a renewed sense of loss at the time he was due to return. Then near the first anniversary of his death, May 14, Thom's life and his generosity in death were celebrated again. On these special dates and in between people have found many ways to remember Thom. Some of the ones we know of are listed here.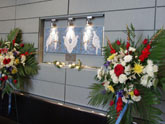 Towards the end of August, 2004, a beautiful mosaic made by Chris Silkwood was installed in the Houston office of ABB Lummus Global. Jim Bataillon took this picture of it. The doves represent the six men who were shot by terrorists on the job site in Saudi Arabia on May 1, 2004. The executive floor conference rooms in Houston were also re-named for each of the men.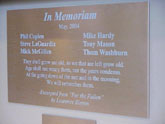 Carsten Alsguth of ABB also sent pictures. He took the one to the right of the small plaque beneath the mosaic. The other men assassinated were Phil Coplen, Mike Hardy, Steve LaGuardia, Tony Mason and Mick McGillen. Tony was shot in the doorway of Thom's office. Click on his name to go to a site for him. It is good to display on this web site the names of all the "fallen" men..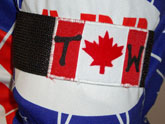 Carsten reported that Thom started quite the trend on Fridays with his Hawaiian shirts and that many people at ABB still wear them weekly in his honour. He told of pub gatherings where glasses are raised to Thom and of a fellow biker on special ride wearing a black arm band in Thom's honour. In the spring both Carsten and Rick Bresler sent pictures of the MS 150 bike ride. The whole 2005 ABB team wore arm bands made by Carsten's mother-in-law, an upbeat memorial to an upbeat man.

In April, 2005, the Canadian Kidney Foundation awarded medals in memory of all New Brunswick organ and tissue donors. Four people had made this life saving donation in the previous year.

Even though Thom did not die in New Brunswick, an exception was made and we were given a medal in his memory when we attended a very moving ceremony after the regular service at St. Dunstan's Catholic Church.
Diane and Paul Close donated a book to a public library in Thom's memory ("I wasn't ready to say goodbye : Surviving, Coping and Healing after the Sudden Death of a Loved One" by Brook Noel). Diane reports that the head librarian has selected it as the prominently-displayed "book of the month", for May. Thom's name has been spoken at interfaith services for victims of violence. We are still receiving donations for the scholarship in his memory.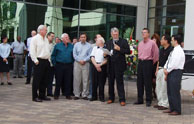 A very touching ceremony took place in Houston on April 28, 2005 in memory of all the men who were killed. Pictures from Jim Bataillon, email messages from Rick Bresler and Carsten Alsguth and a phone call from Leslie Mucha made us feel included. Thank you all. Jim writes: "Everyone was happy to give you their consent to post the picture [on the web site]. They are pictured left to right, first row: Bill Hickling, John Moffat (dark shirt), Tony Frustaci, Sam Mayson, Sandy Christian (wearing a suit), Charlie Thompson, Edison Joe, and Frank Bruni. Standing in the back row are: Glenn DuBose, Arturo Currasco and Ron Davis standing behind Tony and Sam (you can see the top of Ron's head), and Julie Christian (Sandy's wife) standing behind Charlie." Yes. We do remember them.
© Copyright 2005 Sheila Washburn