FINAL REPORT ~ THOMAS WASHBURN, P.Eng.
September 24, 1963 to May 14, 2004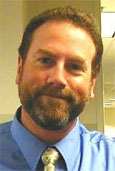 Just before Christmas 2003 our 40 year old son, Thomas Washburn, P.Eng., was promoted to Project Manager of the $200 million ethylene plant expansion under construction for Exxon Mobil at Yanbu, Saudi Arabia. This meant that he had to spend some time on site instead of just working in the Houston office of ABB Lummus Global. On April 20 he returned to the Middle East for the forth time, planning to stay until the job was finished some time in August, 2004.
On Saturday, May 1, at 7 AM (Saudi time), four gunmen, three of whom worked on site, entered the ABB field office and shot six managers. Five died that day of their injuries. The assassins murdered a guard and wounded many more people in random shootings around the city before they too were killed by the police. The sixth manager, our son Thom, was taken by ambulance to the Royal Commission Medical Center in Yanbu where he remained conscious but paralysed by a C6 fracture to his vertebrae and suffering from a nick in his trachea. About noon (ADT) on May 1 we, his parents, Owen and Sheila Washburn of Fredericton, NB, were notified about the "incident" and six hours later we were airborne.
With much cooperation from the airlines, the Canadian Department of External Affairs, the Kingdom of Saudi Arabia and ABB, both parents managed to be in Yanbu about 72 hours after the attack. For four days we were at Thom's side in the hospital taking turns acting as his hands and feet. During that time our crippled son was very lucid, though obviously under great physical distress. He realized that it would be a big battle for him to regain full use of his arms, let alone walk again.
We knew that rehabilitation should be started ASAP and ABB arranged for the firm, SOS, to fly Thom and us to the United States using Rega (www.rega.ch), a Swiss company specializing in air rescue. Early on Saturday, May 8 the three of us, a doctor, a nurse and three pilots were on our way with fuelling stops at Zurich and Sept Isles, Quebec. We arrived in Texas about 10:30 CDT that night.
Thom was especially relieved to be at the Memorial Herman Hospital in Houston, one of the best neurological hospitals in the world. We went to Thom's apartment for much needed sleep while friends from ABB spent the night in hospital with him. They chatted off and on for several hours until he was finally given some morphine for pain.
When we arrived at the hospital Sunday morning to our horror we discovered that Thom could not be wakened. A CAT scan revealed that, beside the bullet that had passed through his neck from back to front, there was a second bullet lodged in his brain near the optic nerve.
Thom knew he had been shot twice, but the neurosurgeon in Yanbu had taken a "CT scan of the brain and cervical spine". His medical report of May 6 never mentioned the second bullet; he had told Thom that the second bullet must have grazed his head.
The anger, the disbelief, the anguish and the despair that we experienced was almost unbearable. Thom was transferred to a trauma unit at Memorial Herman Hospital where, despite the best medical care possible, terrible things kept happening inside his brain. Two neurosurgeons, Dr. Guy Clifton and Dr. Aaron Mahody, and various assisting doctors and nurses all kept us fully briefed, showed us successive CAT scans as the situation deteriorated and described all the various means that they were using to control his bodily functions, temperature and blood chemistry.
As a chemical engineer, Thom would have been impressed by the sophisticated machines, medicines and systems which were keeping him alive. And he would have been touched by the loving care lavished on his inert body by highly skilled nurses who treated him with great compassion.
Our other children, Sue, Ken and Nancy, rushed to be with us and with Thom. His employer, ABB Lummus Global, moved us all to a hotel within walking distance from the hospital. We cannot fully express our gratitude for the kind and loving support Thom and his whole family received from the hospital staff and from Thom's friends and colleagues, some of whom spent long hours in the hospital with us.
When all hope was gone we made the terrible decision to turn off the machines. Knowing that Thom wanted to donate his organs, we did so and in death he has helped about 50 people extend and improve their lives. We may meet some of the organ recipients in due time and we will certainly meet the student engineers from Fredericton who will receive the yearly scholarship being established in Thom's memory.
There was a memorial service in Fredericton, on Saturday, May 29, at 2 PM at Wilmot United Church. We celebrated Thom's life with good friends, some who knew Thom all his life and others who had become family friends in the decades since Thom left home. However, this was the second service for Thom, the first being on Tuesday, May 18 in Houston. In Texas we met friends and colleagues of Thom's from his seven years in Houston: bicyclers, hockey players, golfers, neighbours, and co-workers. Afterwards, we went with some of them to one of Thom's favourite pubs where, like Thom would have, we drank Shiner beer, ate plantain chips, told tales and laughed and cried together.
The slow healing process has begun. But oh, how we all miss Thom. He was an engineer's, engineer. He represented Canada with integrity and competence in the States, in China, in the Czech Republic and in Saudi Arabia. His industry has lost a potential leader. And we have lost a cherished son.
Sheila and Owen Washburn
© 2005 Sheila Washburn